Bihar BTSC Junior Engineer JE Recruitment 2019 Civil / Electrical / Mechanical Vacancy
Bihar Technical Service Commission (Pariksha) के अन्तर्गत अभी हाल ही में BTSC Jr. Engineer Civil / Electrical / Mechanical Recruitment 2019 के लिए 6379 पदो के लिए Notification जारी कर दिया गया है, तथा आयोजित Notification मे BTSC JE Vacacny 2019 के अन्तर्गत जो भी महत्वपूर्ण जानकारी है, उसे नीचे दिए गए लेख मे प्रस्तुत करेगे जिसकी मदद से आयोजित परीक्षा मे बेहतर अंक अर्जित किए जा सके तथा Bihar Pariksha Portal से सम्बन्धित अन्य मुख्य बात को ध्यान देगे तो लेख को ध्यान पूर्वक पढे। bihar bstc vacancy 2019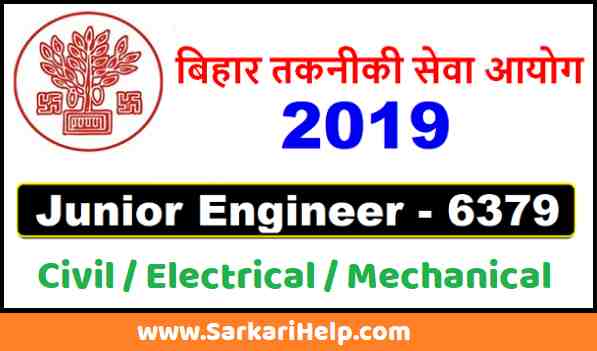 BTSC Junior Engineer JE 2019
Bihar Technical Service Commission ने Civil, Electrical, Mechanical Trade वालो के लिए कुछ 6379 पदो के लिए विज्ञप्ति जारी कर दी है, जिसके लिए आवेदन को 11/03/2019 से शुरु हो गए है, और आवेदन की प्रक्रिया आनलाइन शुरु की जाएगी जिसके लिए अलग अलग Category के लिए Fees का प्रावधान जारी किया है, तथा मुख्य बातो पर ध्यान दे तो आयोजित Notification मे 3 साल Polytechnic Diploma जिसमे Civil/Electrical/Mechanical Engineering किए हुए विद्यार्थीयो को ही आवेदन करने के योग्य मागॉ जा रहा है, तथा मुख्य बिन्दु को नीचे दिए गए लेख पर ध्यान देते है।
BTSC JE 2019 Vacancy
| | |
| --- | --- |
| Name of the Organization  | Bihar Technical Service Commission (BTSC Bihar) |
| Post Names  | Junior Engineer Posts |
| Total Posts | 6379 Posts |
| Location of the Job  | Bihar |
| Advt Issued Date | 6th March 2019 |
| Type of Job  | Bihar Government Jobs |
| Starting Date to Apply | 11th March 2019 |
| Last Date To Apply | 15th April 2019 |
| Application Process | Online |
| Selection Mode  | Written Exam and Interview |
| Official Website | www.btsc.bih.nic.in |
Junior Engineer Civil = 5815 Post
Junior Engineer Mechanical = 432 Post
Junior Engineer Electrical = 132
Age detail
इस बारे मे अगर बात करें तो Notification के माध्यम से
Min : 18 Years.
Max : 37 Years (Male)
Max : 40 Years (Female)
Salary Details
Application fee
Read official notification
Bihar BSTC Junior Engineer Vacancy Details
How To Selection Process 
Candidates will be selected through written exam/interview
How To Apply Bihar BSTC JE 2019 
Steps To Apply Online:
आप सबसे पहले BTSC की ऑफिसियल वेबसाइट पर विजिट करिये – http://btsc.bih.nic.in

उसके बाद New Recruitment पर क्लिक करे
एक New Tab Open होगी जिसमे इस भर्ती से सम्बन्धित सभी जानकारी दी जाएगी
आप ध्यानपूर्वक सभी Instruction पढ़कर जो भी Details पूछी गयी है वो fill up करे
Photo. Sign & Fees सम्बन्धित सभी Details Complete करके Submit पर Click करें
और अपना Application Form Print कर ले।
Vacancy Details
Sr No
Post Name
Total
Qualification
1
Jr Engineer (Civil)
5815
Diploma (Civil)
2
Jr Engineer (Mechanical)
432
Diploma (Mechanical)
3
Jr Engineer (Electrical)
132
Diploma (Electrical)
Read the Full Notification Before Apply Online
Important Links
Apply Online 
Click Here
Notification
Click Here
Official Website
Click Here
Bihar BTSC JE Syllabus 2019
English
General English
Synonyms
Antonyms
Prepositions
Sentence
Completion
Active and Passive Voice
Spelling Test
Spotting Errors
Passage Completion
Substitution
Sentence Arrangement
Transformation
Sentence Completion.
Active Voice and Passive Voice.
Error Correction (Phrase in Bold).
Spotting Errors.
Para Completion.
Substitution.
Error Correction (Underlined Part).
Fill in the blanks.
Idioms and Phrases.
Sentence Improvement.
Idioms and Phrases
Sentence Improvement
Para Completion
Joining Sentences
Error Correction (Underlined Part)
Error Correction (Phrase in Bold)
Fill in the blanks
Mathematics
Time and Distance
Problems on Trains
Time and Work Partnership
Ratio and Proportion
Boats and Streams
Simple Interest
Areas
Averages
Problems on L.C.M and H.C.F
Pipes and Cisterns
Problems on Numbers
Compound Interest
Volumes
Profit and Loss
Odd Man Out
Races and Games
Numbers and Ages
Mixtures and Allegations
Percentages
Simple Equations
Quadratic Equations
Indices and Surds
Mensuration
Permutations and Combinations
Probability
Simplification and Approximation
Bihar JE GK Syllabus 2019
Inventions in the World
Sports
Basic Computer
Indian History
Economy of Indian
Indian Parliament
Indian Politics
Famous Days & Dates
Famous Books & Authors
Botany
Chemistry
Geography
Physics
Zoology
Environment
Indian Culture.
Current Affairs
Current Affairs – National & International.
Geography.
Budget and Five Year Plans.
History.
Important Financial & Economic News.
Culture.
Bihar BTSC JE Syllabus Electrical Engineering
Digital Electronics.
Power Electronics and Electric Devices
Control Systems.
Measurement and Instrumentation.
Electrical Engineering Materials.
Analog theory.
IC Technology.
Micro Processors and Micro Controllers.
Power System Protection.
Power Systems: Analysis and Control.
Electrical Circuits – Theory and Application.
M Theory.
Energy Conversion.
Non-Conventional Energy Sources and Energy Management.
 Mechanical Engineering
Theory of Machines.
Manufacturing science.
Manufacturing Management.
Mechanics of Solids.
Engineering Materials.
Machine Design.
Thermodynamic Cycles.
Fluid Mechanics and Power Plants.
Heat Transfer, Refrigeration and Air Conditioning.
Fluid Mechanics.
I.C Engines, Fuels and Combustion.
Civil Engineering
Solid Mechanics.
Design of Steel Structures.
Structural Analysis.
Building Materials and Building Construction.
Design of Concrete Structures.
Estimation,
Construction,
Planning and Management.
Water Resources and Hydraulic Engineering
Irrigation Engineering.
Environmental Engineering.
Geo-technical Engineering
Foundation Engineering.
Transportation Engineering
Highway Engineering.
Traffic Engineering.