How to prepare Current Affairs and GK for Banking Exams
Hello Candidates, This is a Guest Post, which has been published by the Gradeup (Madhav). In this article, it is stated that how to Prepare for various Examinations of the bank and how to prepare for current affairs and General knowledge and many other Information is available in this post.
How to prepare Current Affairs and GK for Banking Exams
One of the most coveted exams in India are the exams for recruitment in banking services. Every year millions of people appear for these exams in hope to get posted as a person in one of the most lucrative sectors of the professional industry. Banks are one of the most stable and well-paying offices in modern as well as rural India. People from various sectors aim to score good marks in the sections of this exam so that they can get a job as a probationary officer or a special officer in Banks. In this article, we are going to give you a broad idea about preparation strategy for Banking Exams that you can use for all the upcoming exams and get started with the preparation.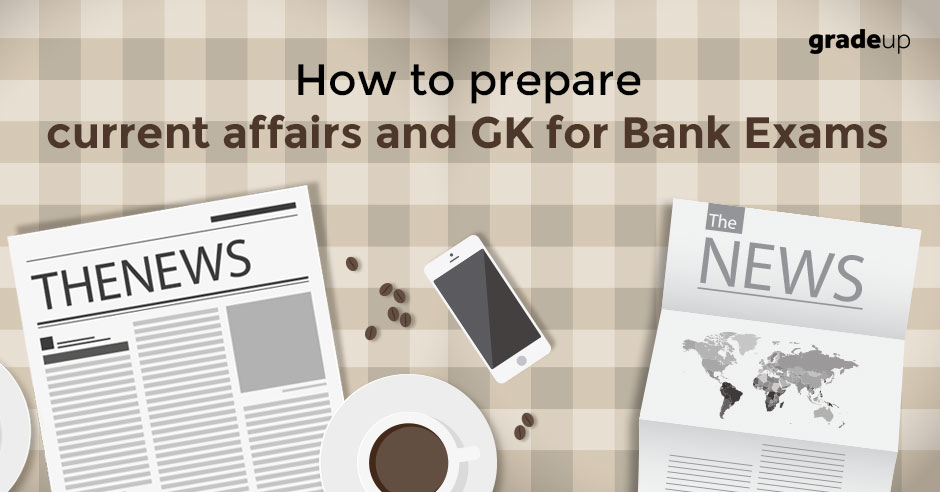 Current Affairs and GK for Banking Exams
Banking Exams primarily consist of the following sections –
Quantitative Aptitude – Numerical based questions that test the candidate's ease of dealing with numbers and accuracy in performing mathematical operations. These questions will need the candidate to give stress on Speed and Accuracy.   Must Read : X-EEED Coaching Notes Quantitative Aptitude Download
Logical Reasoning – These logic based questions are designed to test the candidate's thinking skills. The questions will prompt you to think out of the box and use your little grey cells to determine your intelligence.
English Language – The language that we all need to communicate with every day is really the necessity of professional life. Your fluency with the language, grammar knowledge and the extent of your vocabulary is also tested. Must Read : English Grammar Idioms Book PDF Download
GK and Current Affairs – Your awareness of the environment around you tells the recruiters how observant you are and that is a huge skill when it comes to getting on top of the corporate ladder. Must Read : GK Questions and Answers Samanya Gyan
We are going to primarily focus on current affairs & general knowledge separately and give you some steps to follow that will make things easier to tackle.
How to prepare GK for banking exams
General Knowledge is accumulated throughout your life as a result of the books you read, the people you interact with and also the television media that you consume. You must be observant to mentally take a note of things and then remember it for the near future. This does not mean that you should know everything about everything but there are certain things that actually need your knowledge for interacting with other people. In this case, general knowledge also determines your smartness over the thousands of other candidates that are preparing for the same spot as you.
In order to truly prepare for GK, you will have start to focus on the basics of school knowledge. There are a lot of books that you can read and prepare out of, but no book can guarantee 100% success in banking exams. You must be able to relate the knowledge the book provides with the knowledge that you had gained in your everyday life. That is the only way to remember hundreds of facts without even realising. Cook up stories, imagine how things would have taken place in history and use mnemonics to aid memory.  You rarely forget the story of a movie but dialogues are a lot harder to remember. Similarly, take time to make things stick to your brain like a story. Put some logic and emotion behind things. Revise things multiple times and give yourself the time to remember things. Do not expect this section to be perfect in one go. It is natural to forget things but when you pay full attention the second time you read it, you will remember 50% more things.
Hence, Focus and Revision is the key to succeeding in this section when preparing for Banking Exams in India. The important topics that you will need to cover are also given below –
Reports Published By Different Organaisations
Stock Exchanges Of Diff Countries
Core Industries
Static Banking Awareness
Airports In India
Cups And Trophies Realted To Sports
Cabinet Ministers And  Constituency
Imp Food Festivals Around The World
National Symbols
State And Official Language
Unesco Heritages Sites In India
Revoultions In India
Highest Mountains And Deserts
Space Centres In India
Palaces In India
Father Of Revolutions
Parliament Names Of Diff Countries
Books And Authores
Banks Headquarters
Dance Forms In India
Dames In India
Cental Bank Names Of Difference Countries
Superlatives In India
Imp Boundary Lines
Bird Sanctuaries In India State Wide
International Bank Hq
Ports In India
Stadiums In India
Famous News Papers And Agencies In The World
Famous Festivals In India
Nuclear Powerplants
Bank Tag Lines
Important Days
How to prepare current affairs for banking exams
Current Affairs are similar to general knowledge but instead of widening your horizons to everything about everything we narrow it down to the things that have occurred in the recent past and are about to happen The changes and developments that are taking place in the world everyday should be your focus You can look at things that are affecting people's everyday life and creating an impact on the upcoming future In order to get a hold of current affairs, you must read newspapers every day and if you think that is a little more taxing task, you can watch the daily news that sum up each day's proceedings in a super-fast way There are also applications that you can download in your mobile phone which provide notifications for breaking news and 60-100 word details about each news article that might interest you
To remember all these facts, you can keep track of all the important things you must take note of all the important news. You can even stick articles cut out from newspapers for these articles If you are using a mobile phone to read GK articles, you can always have a note making application to help you sort through all the articles You can even store the events or links in chronological order for better preference
Now that we have told you all about the preparation sources and steps for GK and Current Affairs for Banking Exams, we would like to tell you that you need to prepare these things at least for 3 months if you want to ace the exam These things need constant focus and everyday focus No single book will prepare you for this section and only perseverance and consistent efforts will be able to get you through the troubles that this section causes We want to highlight that it's not possible to know all the answers but using the above described methodology you can definitely get good marks to improve the chances of your selection
We hope that this article has prepared you for the GK and Current Affairs section of the Banking Exams For more information, you can prepare the other sections using the articles given on Gradeup app. It'll you achieve your dreams and minimise the efforts that you make in order to pass the exam For more important information, download gradeup app.
All the best for your exams,
Team gradeup!