Haryana HSSC Group D 2018 Exam Date घोषित
Haryana Staff Selection Commission HSSC Group D 2018 : इसमे HSSC Group D Chowkidar, Peon, Mali, Dhobi, Rasoiya, Helper, Khalasi and Other Group D Post Recruitment 2018 से सम्बन्धित भर्तिया जारी की गई है, नीचे हमने Haryana SSC Group d 2018 Details से सम्बन्धित सम्पूर्ण जानकारी हिन्दी भाषा मे आपके लिए लेकर आए है, नीचे दि गई समस्त जानकारी को ध्यान पूर्वक पढेगे तो आयोजित इस हरयाणा एसएससी ग्रुप डी 2018 भर्ती परीक्षा की पूरी जानकारी हिन्दी मे मिल जाएगी।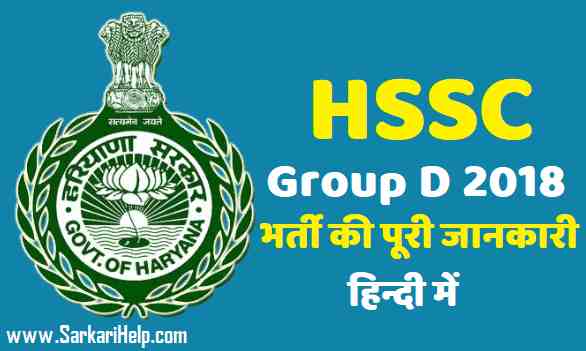 Hssc group d 2018 notification
Latest Update : इस भर्ती से सम्बन्धित अगर आपके पास कोई प्रश्न हो तो नीचे कमेंट मे पूछकर समस्या का समाधान प्राप्त करें।
Haryana HSSC Group D 2018
इस भर्ती से सम्बन्धित कुछ नियम और निर्देश है, जिसे हमने नीचे उपलब्ध किए है, तथा कुछ जानकारी को हमने Table के माध्यम से आपके लिए साझा किया है।
Haryana Group D Vacancies 2018 Bharti
Name of Organization
Haryana Staff Selection Commission (HSSC)
Name of the Vacancies
Group D (ग्रुप डी भर्ती) / 4th Class
Number of Vacancies
18218
Availability
Announced
Eligibility Criteria

Educational:  10th or 12th किसी भी बोर्ड से
Age:  18-42 years (as on 01.01.2019)

Mode of Application
Online
Selection Process
Written Exam and Merit List
Official Website
www.hssc.gov.in
Haryan HSSC Group D 2018 News
इस वैकेंसी के बारे मे विस्तृत जानकारी यहा पर समय समय पर हम Update करते रहेगे जैसे ही कोई New News होगी या किसी प्रकार की कोई भी इस भर्ती से सम्बन्धित खबर हमारा लक्ष्य हम उसे आपके लिए सबसे पहले हिन्दी भाषा मे आपकी अपनी वेबसाईट www.SarkariHelp.com पर उपलब्ध करेगे।
Haryana HSSC Group D 2018 Vacancy Notification Details Video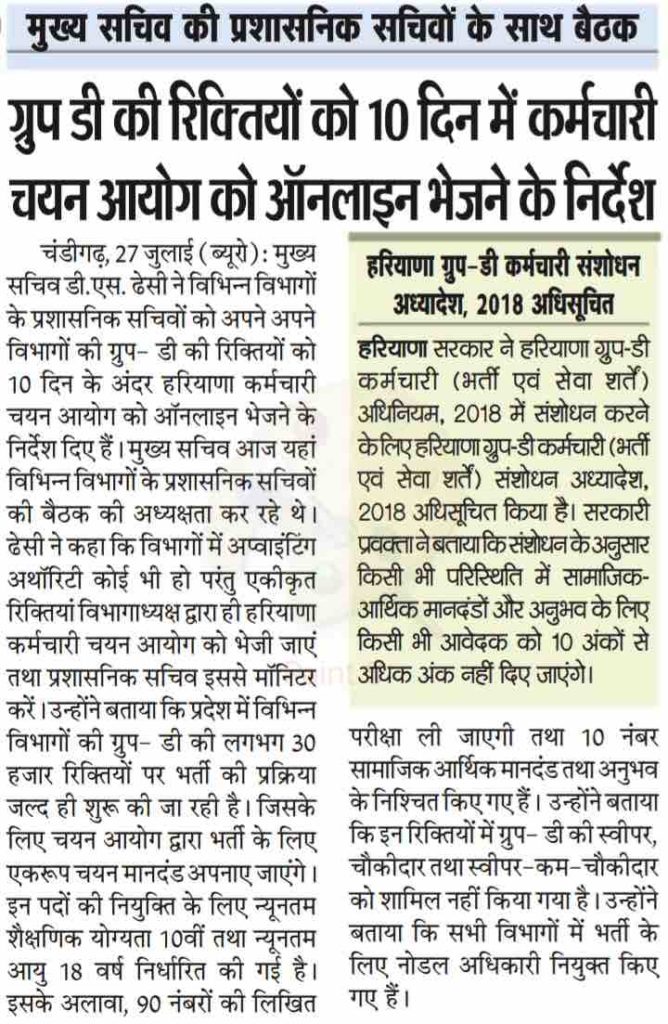 HSSC Group D 2018 Selection Process
इस भर्ती परीक्षा मे HSSC Group D Exam Kaise Pass Kare?, HSSC Group D Selection Process के बारे मे बात करेगे जिसकी मदद से आपको यह पता हो जाएगा की इसमे पूर्ण रुप से Joining पूर्ण होने तक की क्या क्या प्रक्रिया है, तो अगर आपने आवेदन कर दिया है, तो निचे दी गई सम्पूर्ण जानकारी को पढे तभी आवेदन करेेगे तो ज्यादा ठीक रहेगा।
Update Soon……
HSSC Group D 2018 Dates
Notification

 Issued : 28/08/2018
Application Begin : 29/08/2018
Last Date Apply Online : 18/09/2018
Last Date Fee Payment : 21/09/2018
Exam Date : Notified Soon
Admit Card Available : Notified Soon
HSSC Group D Application Fee

General Male & Other State
100/-
General Female Haryana Dom.
50/-
SC / BC Male Haryana Dom.
50/-
SC / BC Female Haryana Dom
25/-
PH Candidates / EXs
0/-
Haryana SSC Group D Post Details
नीचे आयोजित इस हरियाणा एसएससी ग्रुप डी भर्ती परीक्षा मे जिस पोस्ट के लिए जिनते पद नियुक्त किए है, उनके बारे मे विस्तार से एक श्रेणी क्रम मे बताया गया है, जिसे आपको ध्यान देना अत्यन्त आवश्यक है, क्योकी इसमे जारी किए गए पदो का Code उपलब्ध है, जिसे आवेदन करते वक्त आपको उसमे अपने अनुसार पदो के कोड को दर्ज करना होगा।
HSSC Name and Number of posts (Code-wise)
Total Vacancies of Group D Posts- 18218 Posts
General- 8312 Posts
SC         – 4245 Posts
BCA      – 3345 Posts
BCB      – 2316 posts
PWD    – (4% Seats of Total Seats) = 565 Posts
| | | |
| --- | --- | --- |
| Code | Post Name | Total Post |
| 101 | Peon | 6996 |
| 102 | Belder | 3414 |
| 103 | Animal Attendant | 1885 |
| 104 | Helper | 926 |
| 105 | Mali | 709 |
| 106 | Peon Cum Chowkidar | 531 |
| 107 | Cook | 520 |
| 108 | Field-man | 424 |
| 109 | Workshop | 337 |
| 110 | Mechanical Helper | 329 |
| 111 | Water Carrier | 218 |
| 112 | T.Mate | 205 |
| 113 | Mali Cum Chowkidar | 159 |
| 114 | Tyreman Helper | 105 |
| 115 | Dhobi | 99 |
| 116 | Road mate | 85 |
| 117 | Barber | 79 |
| 118 | Electrician Helper | 65 |
| 119 | Blacksmith Helper | 60 |
| 120 | Welder Helper | 60 |
| 121 | Mate | 56 |
| 122 | Waiter | 54 |
| 123 | Dresser | 42 |
| 124 | Khalasi | 39 |
| 125 | Laboratory Attendant | 37 |
| 126 | Library Attendant | 36 |
| 127 | Mining Guard | 35 |
| 128 | Cleaner | 31 |
| 129 | Ward Sarvent | 31 |
| 130 | Carpenter Helper | 30 |
| 131 | Battery Attendant Helper | 29 |
| 132 | Chowkidar com Peon | 29 |
| 133 | Laboratory Attendant | 28 |
| 134 | Cobbler | 27 |
| 135 | Storeman | 27 |
| 136 | Chowkidar com Mali | 22 |
| 137 | Asst. Pump Operator | 20 |
| 139 | Security Guard | 19 |
| 140 | Mason | 17 |
| 141 | Water Carrier | 17 |
| 142 | Bill Distributor | 16 |
| 143 | Lab Attendant | 16 |
| 144 | Carpenter | 15 |
| 145 | Painter | 15 |
| 146 | Tailor | 14 |
| 147 | Attendant | 13 |
| 148 | Ground Man | 13 |
| 149 | Daftari | 12 |
| 150 | Ward Attendant | 12 |
| 151 | Gang-mate | 11 |
| 152 | Messenger | 11 |
| 153 | Orderly | 11 |
| 154 | Process Server | 11 |
| 155 | Room Attendant | 11 |
| 156 | Announcer | 10 |
| 157 | Cook Helper | 9 |
| 158 | Head Mali | 9 |
| 159 | Asst. Cook Cup Tendooria | 8 |
| 160 | Lady Attendant | 8 |
| 161 | Ward boys | 8 |
| 162 | Halwai Helper | 7 |
| 163 | Kennel man | 7 |
| 164 | Usher | 7 |
| 165 | Labourer | 6 |
| 166 | Frash | 5 |
| 167 | Lab Boy | 5 |
| 168 | Dusting Dearer cum Mender | 4 |
| 169 | Field worker | 4 |
| 170 | Keyman | 4 |
| 171 | Packer | 4 |
| 172 | Tandooria | 4 |
| 173 | Ward Servant | 4 |
| 174 | Woman Coolie | 4 |
| 175 | Boat Keeper | 3 |
| 177 | Coolie | 3 |
| 178 | Electrician | 3 |
| 179 | Kitchen Attendant | 3 |
| 180 | Parade Attendant | 3 |
| 181 | Store Helper | 3 |
| 182 | Blacksmith | 2 |
| 183 | Class Attendant | 2 |
| 184 | Cook mate | 2 |
| 185 | Darkroom Attendant | 2 |
| 186 | Dark Runner | 2 |
| 187 | Hostel Attendant | 2 |
| 188 | Keeper | 2 |
| 189 | Labour Room Atte. | 2 |
| 190 | Petrol Pump Atte. | 2 |
| 191 | Store Attendant | 2 |
| 192 | Sewman | 2 |
| 193 | Swasthya sahayak | 2 |
| 194 | Visera Cutter | 2 |
| 195 | Asst. Electrician Helper | 1 |
| 197 | Attendant cum Chowkidar | 1 |
| 198 | Baillif | 1 |
| 199 | Bearer | 1 |
| 200 | Cainman | 1 |
| 201 | Crane Operator helper | 1 |
| 202 | Gallery Attendant | 1 |
| 203 | Gardner | 1 |
| 204 | Gate-keeper | 1 |
| 205 | Glass Cleaner | 1 |
| 206 | Helper to Lineman | 1 |
| 207 | Jamadar | 1 |
| 208 | Lab Asst. | 1 |
| 209 | Lab Peon | 1 |
| 210 | Lab. Attendant | 1 |
| 211 | Moulder | 1 |
| 212 | Oil-man | 1 |
| 213 | Plumber cum Helper | 1 |
| 214 | Sanitary Worker | 1 |
Haryan SSC Group D Vacancy Apply Online
| | |
| --- | --- |
| Apply Online | |
| Download Notification | |
| Official Website | |
Haryana HSSC Group D 2018 Syllabus
वैसे अभी Haryana HSSC Official Syllabus जारी नही किया है पर नीचे हम कुछ महत्वपूर्ण सारणी उपलब्ध कर रहे है, जिसकी मदद से आपको आयोजित इस परीक्षा मे कैसे प्रश्न पूछे जाते है, और कितने अंको के होते है, इस बारे मे विस्तार से जानकारी बता रहे है।
HSSC Group D Exam Syllabus 2018 for General Knowledge
Geography.
Indian History.
Indian Economy.
Artists.
Sports.
Famous Places in India.
Famous Books & Authors.
Rivers, Lakes, and Seas.
Biology.
Countries and Capitals.
Indian Parliament.
Tourism.
Famous Days & Dates.
General Science.
Heritage.
Inventions and Discoveries.
Literature.
Civics.
Environmental Issues.
Indian Politics.
Current Affairs.
Haryana SSC Group D Syllabus 2018 for English
Sentence Improvement.
Fill in the blanks.
Joining Sentences.
Substitution.
Error Correction (Underlined Part).
Idioms and Phrases.
Active Voice and Passive Voice.
Sentence Arrangement.
Passage Completion.
Antonyms.
Synonyms.
Sentence Completion.
Spotting Errors.
Para Completion.
Error Correction (Phrase in Bold).
Prepositions.
HSSC Group D Syllabus 2018 for Aptitude
Volume and Surface Area.
Races and Games.
Simple Interest.
Probability.
Surds and Indices.
Square Root and Cube Root.
Ratio and Proportion.
Permutation and Combination.
Decimal Fraction.
Height and Distance.
Pipes and Cistern.
Average.
Time and Distance.
Numbers.
Boats and Streams.
Allegation or Mixture.
Chain Rule.
Simplification.
Logarithm.
Stocks and Share.
Area.
Partnership.
Problems on H.C.F and L.C.M.
Banker's Discount.
Compound Interest.
Time and Work.
Problems on Ages.
Haryana SSC Group D Syllabus 2018 for Reasoning
Analogy.
Decision Making.
Arithmetical Reasoning.
Blood Relations.
Directions.
Syllogism.
Number Series.
Coding-Decoding.
Alphabet Series.
Cubes and Dice.
Embedded Figures.
Data Interpretation.
Clocks & Calendars.
Statements & Arguments.
Non-Verbal Series.
Embedded Figures.
Clocks & Calendars.
Number Ranking.
Statements & Conclusions.
Mirror Images.
Haryana HSSC Group D Previous Paper 
नीचे हमने आयोजित इस भर्ती परीक्षा के लिए पुराने पेपर को उपलब्ध किया है, जिसकी मदद से आप इस भर्ती परीक्षा के लिए एक बेहतर ढंग से प्रश्न पत्र पाकर अपनी तैयारी को मजबूत बना सकते है।
Haryana HSSC Group D Previous Paper Download
Haryana HSSC Exam Date
Update Soon……
Haryana HSSC 2018 Admit Card
जल्द ही अपलोड होगा
Haryana HSSC Salary Details
इसमे बहुत से पद है, इसलिए आयोजित इस भर्ती परीक्षा के लिए सभी अलग अलग पदो के लिए अलग वेतन रखा गया गया है, पर यहा हम ग्रेड पर आधारित आधिकारिक HSSC Group D Salary आपके समझ प्रस्तुत कर रहे है। Level is DL (Rs. 16,900 – 53,500/-) + Applicable Spacial pay.
HSSC Group D Vacancy 2018 Inquiry Details
उपरोक्त दि गई जानकारी से इस भर्ती से सम्बन्धित सम्पूर्ण जानकारी पता ही हो गई होगी, तो पर आवेदन तथा अन्य प्रकार से HSSC Group D 2018 Online Form & Inquiry से सम्बन्धित बहुत से विद्यार्थियो को किसी प्रकार की समस्या का सामना करना पड रहा होगा, तो इससे सम्बन्धित नीचे कुछ HSSC Group D Official Inquiry Number उपलब्ध किए गए है, तथा कुछ Address भी है, जिसकी मदद से आप अपनी समस्याओ का समाधान प्राप्त कर सकते है।
Contact Number: ++91-172-2566597 (Inquiry)
Address: Department, Haryana Staff Selection Commission,
Bays No. 67-70, Sector-2,
Panchkula, Pin-134151
Haryana, India
Email : NA
तो कैसी लगी आपको हमारी यह महत्वपूर्ण Haryana HSSC Group D 2018 Vacancy Details इस भर्ती प्रक्रिया से सम्बन्धित किसी प्रकार के सवाल हो तो नीचे पूछे।