How can learning a Foreign Language Boost your Career
Speaking one or more foreign languages enhances your chances of getting employment. In the present day globalized market international companies hire the services of customer service representatives, accounts managers, marketing executives and many more for running their business in different countries. Naturally they need people who can communicate in a globally accepted language and that is English.
How can learning a Foreign Language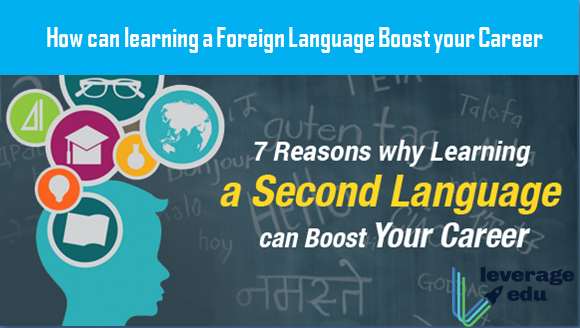 This is the only reason for such increasing demand of such bilingual or multilingual employees and this is quite natural because the representatives of these foreign companies need some platform to communicate with local people and try to understand their specific needs about their products and customers' choices and satisfactions. The following areas of services are required most where language skills are considered assets:
Public Relations/Marketing and Communications
Brand Specialist
Finance Director or Analyst
Customer Service Representative
International Banking Associate
Flight Attendant
Sales Representative
Translator/interpreter
Business Liaison Officer
Recruiter
You would get to know more people!
Whether you have just started learning Ola, Ciao, Guten Tag, Bonjour or have made your way up to hard words, gaining skills in a foreign language helps meet new people. You will be getting to know so many stories of life, experiences and their reasons to learn a new language. Many lessons are learnt from experiences of different people. This interaction with various people would help you gain knowledge and learning for life.
Extra skill is always appreciated.
Now a day's people who can speak a foreign language fluently are much appreciated. Businesses are expanding into new markets now and companies and start ups need people who can communicate with the people in foreign country. People who can convince in native language of other countries are much likely to be hired. This also shows your interest towards learning new skills and anxiety to work hard, which is definitely a boost for your CV.
It's more needed than ever.
Now it has become an important criterion to be bilingual. In this increasingly competitive world it is very important for the individual to be prepared in all possible ways. Being an expert in a foreign language is just one of the many talents that can keep you ahead in the job market. If you can't speak a foreign language then you might be left behind than your peers.
You can travel!
Learning a new language would make it easier for you to travel to that country easily. Knowing the native language of a country is very helpful while travelling there. If you communicate with people in foreign language they might not be very helpful or may try to theft of you but if you speak to them in their language they would be much more open to you and you would be exploring the country much better.
Extra source of earning
This can be an extra source of earning if you want to earn some extra bucks. You can help others by teaching them this language and charging money in return. This talent would always be in demand and you can always take up this profession whenever in need.
You will want to learn more
After you learn one language it becomes very easy to learn another and this becomes much more interesting and you want to learn more. This would be very helpful to you as you would be gaining more and more skills and becoming more attractive in the job market. You can also take up jobs as translator or communicator in foreign countries.
Foreign languages are never out of fashion
You will always seem smarter when you know more than one language. People who are bilingual are considered to be logical, intelligent, and have better decision making skills. You also learn the basics of each language and the mechanics too and hence you know your language better.
You will be more confident
Once you learn so many languages and start interacting with so many people you have better perception about you and are more confident about yourself. When a person is so confident he is automatically more interesting and attractive to talk to and to be hired by a recruiter.
Thus it is recommendable to learn a foreign language to boost your resume and make yourself more attractive to a recruiter.
दोस्तों, हमारे इस वेबसाइट पर आपके काम की हर खबर और ताजा News Update आपको सबसे पहले मिलेगी। चाहे वो Latest News हो, Trending खबरें हो, या फिर 

Govt Jobs

, रोजगार व सरकारी योजनाओं से जुड़ी जानकारी।
हमारी कोशिश है कि हर अहम खबर आप तक सबसे पहले पहुंचे। अगर आप चाहते हैं कि जब भी हम कोई खबर प्रकाशित करें तो आपको उसका नोटिफिकेशन तुरंत मिले तो आप हमारे WhatsApp ग्रुप से जुड़ सकते हैं।