Odisha PSC Civil Service Previous Paper PDF Download|
OPSC Previous Exam Papers Download PDF Download, Odisha Previous Paper PDF Download. Hello Friends, आज हमने आपके लिए OPSC का Study Material लेकर आयें है क्यों की अभी हाल ही में Odisha PSC ने Notification जारी किया है। और OPSC का Prelims Exam को होना निश्चित कर दिया गया है। इस लिए अब आपको इसकी तैयारी के लिए बहुत ही कम समय बचा है। तो आप इसके लिए OPSC के Previous Paper को Solve करना चहिए ताकि Exam के समय आप अन्य किसी भी प्रकार की Problem न हों। OPSC Question Paper से सम्बन्धित Study Material के लिए आप हमारे इस लेख को पूरा पढें।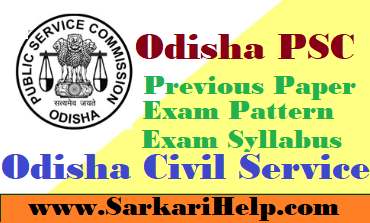 Odisha PSC Previous Paper Download
Odisha PSC  अभी हाल ही में कुछ प्रसासनिक पदों के लिए जो Notification जारी किया था। और जो भी Candidates इसके लिए Apply किये थे। उनके लिए यह जानना बहुत ही जरूरी है। इस Exam में किस प्रकार के Question पूछें जातें है, इसका Exam Pattern कैसा होता है।आदि से सम्बन्धित जानकारी रखना Candidates के लिए बहुत ही जरूरी होता है। इसके साथ ही यदि वे इसके Question Paper को Solve किये रहतें हैं तो उन्हे Exam के समय अपने Time को किस प्रकार Manage किया  जाता है। इस प्रकार की भी समस्या उन्हे नही होती है।
OPCS Civil Service Exam Syllabus
इस पोस्ट में Odisha PSC Syllabus के बारे में पूरी जानकारी दे दी गयी है। Odisha Public Service Commission Syllabus के बारे में जाने तथा इस आधार पर उडीसा लोक सेवा आयोग भर्ती की तैयारी कर लें। अगर आप इस भर्ती की तैयारी कर रहे है तो OPSC Syllabus 2019 के बारे में जरूर जान ले। इसको जानने से आपको यह पता चल जायेगा कि इसमें किन-किन Topics से प्रश्न पूछें जायेंगें।
Odisha PSC Prelims Syllabus
OPSC Prelims Paper I
Current event of National and International importance
History of India and Indian National Movement.
Indian and World Geography-Physical, Social, Economic Geography of India and the World
Indian Polity and Governance-Constitution, Political System, Panchayati Raj, Public Policy, Rights Issues, etc.
General Issues on Environmental Ecology, Bio-diversity and Climate Change that do not require subject specialization, and
Economic and Social Development Sustainable Development, Poverty, Inclusion, Demographics, Social Sector Initiative, etc.
General Science.
OPSC Prelims Paper II
Interpersonal Skills including communication skills
Decision Making and Problem Solving
Logical Reasoning and Analytic ability
General Mental Ability
Basic numeracy (numbers and their relations, orders of magnitude) (Class-X level). Data interpretation (Charts, Graphs, Tables, Data Sufficiency etc. Class-X level); and
Comprehension
English Language Comprehension Skills (Class-X level).
Syllabus for the Mains Exam
Odia Language
Short Essay
Comprehension of a given passage
Precis writing
Translation from English to odia
Grammar, usage and vocabulary
Marks Expansion of an idea
English Language
Grammar, usage and vocabulary
Comprehension of a given passage
Precis writing
Translation from Odia to English
Short Essay
Marks Expansion of an idea
General Studies I
History of Modern India and Indian Culture
Geography of India
Indian Polity
Current National issues and topics of social relevance
Legal and environmental issues
General Studies II
Indian Economy
International Affairs & Institutions
Developments in the field of science & technology, communications and space
India and the World
Statistical Analysis, Graphs & Diagrams
Odisha PSC Civil Service Prelims Exam Pattern
Papers
Subjects
Marks
I
General Studies I
200
II
General Studies II
200
Total
400
Odisha PSC Civil Service Mains Exam Pattern 
Paper
Subject
Marks
I
Odia Language
300
II
English
300
III
English Essay
300
IV
General Studies I
300
V
General Studies II
300
VI
Optional Subjects
300
VII
300
VIII
300
IX
300
Total
2700
Interview
250
GRAND TOTAL
3,350
Odisha PSC Previous Paper PDF Download Prelims, Mains Exam
| | | |
| --- | --- | --- |
| Year | Prelims | Mains |
| OPSC Civil Service Question Paper 2017 | Download | Download |
| 2006 OPSC Civil Services Question Papers | Download | Download |
| 2011 OPSC Civil Services Question Papers | Download | Download |
| 2015 OPSC Civil Services Question Papers | Download | Download |
| 2016 OPSC Civil Services Question Papers | Download | Download |
Odisha PSC Exams Tips
यदि आप आपनी तैयारी को अच्छे तरीके से करना चाहतें है। तो आप Exam के पहले से ही Previous Paper को Solve करना शुरू कर दीजिए।
छोटे लक्ष्य, साप्ताहिक लक्ष्य रखें और उस विषय  को जितनी बार संभव हो उतने बार पढने का प्रयास करें जब तक कि आप उस पर पूर्ण रूप से Satisfy न हो जायें।
पढाई करतें समय अपने जरूरत की चीजों को अपने पास रखलें ताकि आपको किसी भी सामान की जरूरू पडे तो आप को उठना न पडें।
Study करते समय अपने Mobile Phone को Silent Mode में लगा कर अपने पढने के स्थान से कुछ दूरी पर रखें।
तैयारी के समय  आपको परीक्षा के Syllabus और Exam Pattern की भी जांच करनी चाहिए। आप उन प्रश्नों में Mark लगा ले जिसे आप को हल करने में परेशानी हो रही हो।
जिन प्रश्नो में आपको Problem हो उसे बार-बार पढें।
इन्हे भी पढें-
दोस्तों यदि आपको Odisha PSC Exam के बारे में कुछ अन्य जानकारी चाहतें है। तो इसके लिए के आप हमें Comments Box के माध्यम से Comments कर सकतें है। हम शीघ्र ही आपके द्वारा पूँछे गये प्रश्नों के उत्तर देने का प्रयास करेंगें।